Velocity SEO is the preferred internet marketing company of the Tri-County Chamber of Commerce. We are one of the largest chambers in the country. Velocity caught our eye offering a money back guarantee on their SEO services, something we have never seen a company do. Well after doing very effective work for us, we started referring chamber members to them. After good report after good report, they are the ONLY ones we use and trust.
Gino Alissio
Tri-County Chamber of Commerce, Dade/Broward/Palm Beach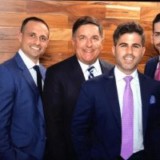 I wanted to thank Charles and the rest of Velocity SEO for not only building the perfect site for our firm, but for the SEO as well. I have paid over 50k on website development and SEO over the years. I have NEVER been on the first page without Pay-Per-Click. Velocity SEO
in only 5 months made me a great site and got that site on the top of the first page in my competitive industry. In my option, they are the best.
Robert Solomon
Saban and Solomon, Attorneys Boca Raton/Miami/Fort Lauderdale
Just want to say a big thank you, and we love the site. It is exactly what we wanted for our new structured settlement sister company. We will be using you from now on for future internet work.
Jim McCabe
For All Funding / Fort Lauderdale